Heading to DistribuTECH 2020 in San Antonio, TX?
Visit us at booth # 2937 to meet the Survalent team, experience our new interactive booth, and see demos of the SurvalentONE ADMS suite.
Survalent is the most trusted provider of SCADA and advanced distribution management systems (ADMS) for electric, water/wastewater, gas, and transit utilities across the globe. Learn why more than 600 utilities in 40 countries rely on the SurvalentONE platform to effectively operate, monitor, analyze, restore, and optimize their operations. Our integrated applications help our customers improve operational efficiencies, customer satisfaction and network reliability. Our comprehensive substation automation solution, Survalent StationCentral, delivers advanced control and monitoring for enhanced network performance and protection.
If you need a FREE pass for the exhibitor floor, please use our guest pass:
Want a private demo or meeting?
Demo Theater Presentations
Minimize Downtime and Increase Safety with Advanced Applications
Tuesday: 12:00 pm – 12:30 pm & 4:00 pm – 4:30 pm
Wednesday: 2:30 pm – 3:00 pm
Deliver the Reliability Your Customers Expect with Distribution Automation
Tuesday: 1:00 pm – 1:30 pm
Wednesday: 12:00 pm – 12:30 pm & 4:00 pm – 4:30 pm
Adapt Today, Evolve Tomorrow: Address Current and Future DERMS Challenges With SurvalentONE ADMS
Tuesday: 10:30 am – 11:00 am & 2:30 pm – 3:00 pm
Wednesday: 1:00 pm – 1:30 pm
Successfully Merging Complex and Disparate Enterprise Systems — The Alectra Story
When: Wednesday, January 29, 2020: 3:30 PM – 4:00 PM
Where: Booth #417
Exhibit Floor Session Number: e-Mobility & Smart Cities
Alectra Utilities will share how they unified on a single SCADA system following the merger of 4 utilities. You'll hear lessons learned from the conversion and merger process, best practices for communication and collaboration, and proven change management processes.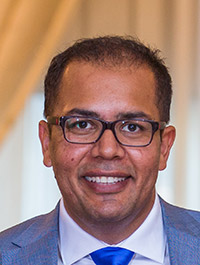 Faisal Rao
Supervisor, SCADA & Networks
Alectra
Looking for a private demo or meeting?
Book now by completing the form below.