Keep the Power Flowing with SCADA and ADMS for Oil & Gas
Electricity is one of the most expensive supplies for the Oil and Gas industry. With production and distribution dependent on a reliable power supply, utilities can't afford unexpected or prolonged outages. Monitoring and controlling power flow across large, geographically dispersed substations can be challenging, particularly for utilities dealing with a reduced workforce. At the same time, they need to create a sustainable energy ecosystem by incorporating renewable energy sources into their power supply to reduce carbon emissions from operations.
Oil and Gas providers need to be highly agile and responsive to tackle these challenges. They need a partner who has an in-depth understanding of their industry and offers ADMS solutions for them.
Survalent helps Oil and Gas utilities optimize their power supply to reduce costs and deliver reliable energy.
The SurvalentONE ADMS platform delivers fully integrated SCADA, outage management, and distribution management solutions that help optimize your network assets, manage peak demands more efficiently and economically across your distribution networks. The platform provides high scalability and ease of configuration so you can easily add new facilities, metering stations, wells, compressor stations, and other assets as your network grows. With SurvalentONE SCADA, OMS, DMS, and StationCentral substation automation, you can also implement an intelligent distribution network that leverages your geospatial data, as well as your local facility and regional centre data, to better monitor, control, and improve your network operations.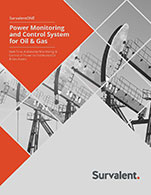 100% Project Delivery. We Guarantee It. Ask Us How.