Survalent Global User Conference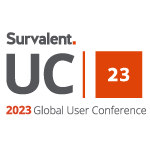 Registration is now open.
Join us on September 25 – 28, 2023 in
Nashville, Tennessee, USA at the Loews Vanderbilt Hotel.
The Survalent Global User Conference is the premier event where utilities from around the world gather to ensure that they're getting the most from their investment in Survalent technology.
The 4-day event includes a conference and an opportunity for further education. The training portion of the conference allows customers to enhance their skills through a broad range of hands-on training sessions that focus on best practices and tips. More than 20 courses are offered that enrich the skills of system users and operators alike. The conference portion is focused on providing insights about industry trends from leading experts, as well as learn about the latest advancements in the SurvalentONE platform and hear real-life success stories from other utilities. It also offers a great opportunity to hear, provide feedback on future product direction, and network with peers and industry experts.
Check out these event photos from a previous conference.