Renewables Management System
Maintaining separate SCADA systems for solar plants, wind farms, and substations is inefficient and expensive to maintain. Adding a separate, cloud-based dashboard solution for reporting is even more cumbersome and costly. Renewable energy plants need full, real-time visibility and control of their energy assets in a single solution to forecast energy production, conduct timely maintenance, comply with regulatory requirements, and maximize energy production.
With the Survalent Renewables Management System, you can do just that.
The SurvalentONE platform enables you to monitor and control multiple plants/farms crossing different distribution jurisdictions at the local as well as the master station level. With the Survalent Renewables Management System, you can view real-time and historical data in graphical dashboards and reports to operate your system safely and efficiently, reduce the cost and maintenance of maintaining separate systems, and ensure your assets are operating at peak efficiency.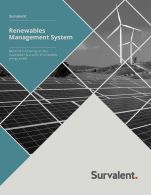 Microgrids
For smaller aggregators, utilities and microgrid communities, Survalent solutions can serve as a Local Distributed Energy Resource Management engine (LDERMe), supporting management of DERs at the grid edge, and coordinating operational data and controls between the utilities ADMS and/or third party DERMS (Distributed Energy Resource Management Systems). The solution can help supporting multiple grid services ranging from Demand Response (coordinating energy storage, rooftop solar, and more), Demand Management (smart EV charging), integrated facility energy management, and resiliency and economic microgrids.
Working together with G&W Electric on their headquarter microgrid project out of Bolingbrook, Illinois, Survalent is currently implementing a microgrid management engine combining the most advanced thought leadership and industry solutions to do so. The solution is tailored to comply with the most strict and demanding operation and interoperability requirements with hardware microgrid controls, FLISR on the loop, market participation, peak load incentives with participating utility feeders, and situational awareness.
Learn more about our SCADA and ADMS solution offerings for renewable energy developers.