Enabling Uninterrupted Transportation with ADMS and SCADA for Transit
Urban transits are the lifeline of a city's infrastructure. A consistent power supply with minimal outages is vital for providing fast and reliable transit while ensuring commuter safety. Transit services like subway, light rail, streetcar, and passenger rail systems need robust monitoring, control, distribution automation, and outage restoration capabilities to ensure their assets have a resilient and reliable power supply.
They need an ADMS partner who can help them prevent service disruptions and increase customer satisfaction.
The SurvalentONE ADMS platform delivers integrated SCADA, outage management, and distribution management solutions to help you keep the power flowing for your transit system. Whether you're managing power at the local level or rolling data up to a centralized control center, your operators can monitor power supply, reroute power as needed, and efficiently manage outage restoration activities to minimize service disruptions and enable reliable transit service.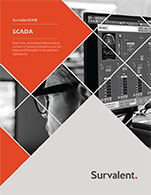 100% Project Delivery. We Guarantee It. Ask Us How.