Collaborate, update, visualize, and share data for optimum system performance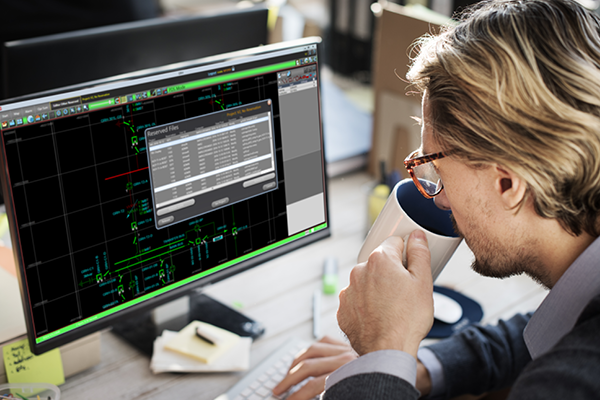 Behind every well-functioning control room, you'll find two critical factors: comprehensive data and good coffee.
While we can't help you with the coffee, we certainly know a thing or two about putting the right data in front of teams of users, whether they're working on the designs that underpin control room processes or in the control room itself. In this week's blog, we'll share how our SmartVU graphical user interface, Product Development System (PDS), and Data Forwarding capabilities have been enriched to help keep your control room operating smoothly with:
More data sharing and collaboration capabilities
Improved navigation and usability to increase efficiency and productivity
Enhanced edit and design capabilities in an offline QA environment
Empower teams with a UI designed for collaboration and ease-of-use
The simplest way to make data more accessible is a single user interface for your ADMS. Whether your team is editing in an offline environment or making split-second decisions in your control room, they'll be most productive and effective when they're using a common UI. (Learn how SmartVU's single, interactive view helps Oakville Hydro get the most out of its SCADA and OMS systems.)
With SmartVU, your team can easily view, manage, edit, and share information across design and production environments. This release adds to SmartVU's editing capabilities to:
Maintain optimal readability, no matter what the map size. Sometimes you want the big picture and other times it's the details you care about. Either way, SmartVU's new minimum and maximum display size for status pmacros ensures key information is always easy to read. Zoom out without losing the visibility to view field points like elbows, fuses and switches, or zoom right in while clearly distinguishing between closely grouped devices.
Improve productivity and collaboration. Enable teams to complete work faster by converting single line diagrams and other views to submaps that can be edited by multiple users simultaneously.
Increase security with more timeout options. Whether you choose to timeout privileged users only or all system users, our new release gives you greater control over session lengths.
Protect your production system with offline design and testing
Operators need a system they can rely on for accuracy and uptime, with an intuitive user interface that enables them to quickly and easily navigate to the views, maps, and information they need.
But systems need to be configured, edited, and upgraded to maintain optimal performance and that introduces the potential for errors – unless you use SurvalentONE PDS. With SurvalentONE PDS, you can design the system to your needs, test it thoroughly, and approve proposed changes before taking them live so you can be confident your production system will work exactly as you need it to. The new release expands on our existing PDS capabilities to:
The PDS can now journal and publish changes made to:

Transformers and service locations imported from GIS
Edits made by the IED Wizard
Any DMS Catalog edits, including those made in Compositions, Conductor Types, Impedances, Constructions, Load Profiles, Time Curves, and Settings.

Gain a more complete understanding of edits performed in each project. Review comprehensive information in the Work Summary Report, including SCS edits; STC Explorer database edits such as points and RTUs; additions, modifications, and deletions of individual line sections; and the total number of changes per line section type.
Prevent conflicts. When multiple users collaborate on a project, it's easy to make contradictory changes to data that can cause issues in production. SurvalentONE PDS eliminates the risk by preventing the edit of a command sequence if its referenced points are being edited by another project that has not been published yet.
Ensure your designs work with your network data 
When it comes to publishing changes into production, there's no greater peace of mind than knowing they were created and tested using data from your own network.
Survalent's Data Forwarding capabilities enable external support systems like SurvalentONE PDS or Operator Training Simulator (OTS) to use data from your active control system in their projects. The current release provides more control over Data Forwarding, including:
An option to automatically send and receive data upon system start-up
A choice of forwarding changes for all points or for telemetered points only
The ability to turn Data Forwarding on or off from within SmartVU
If you have questions or want to leave feedback for the team, share your thoughts in the Comments section below. We'd love to hear from you.
Young
As Chief Technology Officer, Mr. Ngo is responsible for delivering the company's technology, product vision, strategy, and roadmap.
Prior to joining Survalent, Mr. Ngo served as President & CEO at Kinetics Solutions where he oversaw the company's vision and strategy, product commercialization, strategic partnerships, and operations. He also held leadership positions in the power management and advanced magnetics manufacturing industry for Kinectrics Inc., and Honeywell international Inc.
Mr. Ngo holds an Executive Master of Business Administration, Marketing/Finance from Columbia University. He also holds both a Master of Science, Electrical Engineering and a Bachelor of Science, Electrical Engineering from Stevens Institute of Technology.