Improve your Operations with SCADA for Water / Wastewater
Water / Wastewater utilities are under immense pressure to deliver clean drinking water and follow proper wastewater management and storm water management protocol while dealing with a decreasing workforce, regulatory pressures, and budget restrictions.
They need a partner who understands these challenges and can deliver SCADA and advanced applications to help overcome them.
The SurvalentONE ADMS platform delivers SCADA and advanced applications designed for water / wastewater utilities. SurvalentONE integrates with devices from all manufacturers, supports an extensive suite of industry-standard protocols, and supports up to quad redundancy to eliminate downtime risk. With SurvalentONE SCADA, you can improve your network and system control, increase utilization, cut costs, and enjoy unparalleled visibility into your water/wastewater network and systems.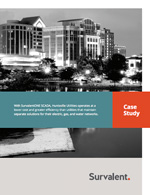 100% Project Delivery. We Guarantee It. Ask Us How.